There are 8 family group homes, 6 newly built since 2004 and 2 refurbished older buildings sponsored by Action for Children, each housing 10 -12 children and a house mother. While these were officially opened in September 2007 after the last one was completed, some still need more furnishings such as kitchen cupboards and counter space, storage and shelving in the pantries.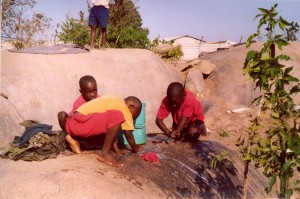 Children and staff really enjoy this kind of living together. They learn life skills and work as a family.
"The houses are wonderful! Now I have time to talk with the children and listen to their problems and help them. I teach them how to cook and clean and take care of the garden. Now I have time to do all my work in the house as well as cook and make bread. I have 13 children from 2-16." House mother
The homes are gradually being landscaped with flowers and trees at the front and the children help with planting of vegetables at the back.
During 2016/12017 all 8 houses were refurbished, windows and doors fixed, floors and bathrooms tiled. This was made possible by 2 groups raising  all the  money needed, around £35,000, to complete the work. Thank you to Wolverhampton and Shrewsbury Methodist Women in Britain (MWiB) and the Zimbabwe  Methodist Fellowship UK.