Rev Linrielink Mutendzwa in his own words…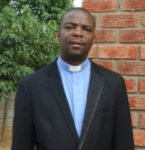 "I was born in 1972 in Chivhu in the Mashonaland East District of Zimbabwe. I am married to a supportive wife, Mercy, and we have been blessed with 2 sons and a set of twins a boy and a girl. I have been a Methodist minister since 1994. During my ministry I have served the church in different areas, rural and urban with different cultural settings, schools and at Head Office. I have been a circuit minister, minister in charge, Principal and synod secretary. I also served as the Research and Publications National Coordinator between 2006 and 2012. Before my appointment at MRCH I was a circuit youth minister at Hatfield Circuit where I had been for a year after a near fatal traffic accident that left me with broken limbs. The Lord raised me back to life on plated legs.
Professionally I hold an Executive Masters in Business Administration, BSc Management and Entrepreneurial Development Studies, Diploma in Theology and another Diploma in Religious Studies. I also hold various certificates in the areas of Development, Research Methods and Business and Project  Management.
I bring to MRCH a warmed heart, braced up spirit, enduring soul and an open mind. I believe God will use me as a reliable instrument in this special child care ministry."